Presidential Medal of Freedom Honoree
Arturo Sandoval
Wins Latin Grammy® for
Best Traditional Tropical Album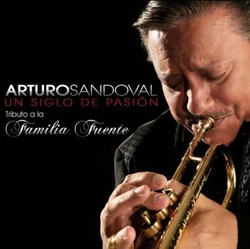 LOS ANGELES, CA – Just one day after President Barack Obama placed the Presidential Medal of Freedom around Arturo Sandoval's neck at the White House on November 20, the jazz trumpeter received a Latin Grammy® for the Best Traditional Tropical Album for his May 2013 release, Un Siglo De Pasión (E35 Music). Although he was unable to accept the Grammy due to traveling for a performance at the Musa Kawasaki Hall for the Montreux Jazz Festival Kawasaki, he celebrated the Medal of Freedom with three generations of Sandovals in Washington, DC before leaving for Japan.

"I am so grateful to President Obama, the Recording Academy and to my music peers for honoring me with these two fantastic awards," said Sandoval. "I am truly blessed that people in the United States and around the world enjoy the talent that God has given me and found me deserving of these honors.