WBGO Jazz 88.3 FM Launches Media Campaign
with Billboards and Kiosks in New Jersey
and New York

Varick Street Billboard Sparks Friendly Controversy
and Host-An-Hour Social Media Contest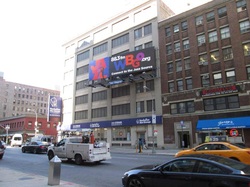 NEWARK, NJ, August 29, 2013 – Do you want to be a guest DJ on WBGO Jazz 88.3 FM? Here's how: Find WBGO ads on telephone kiosks, street pole banners, billboards and digital billboards located throughout New Jersey and in Manhattan and Brooklyn, including by the entrance to the Holland Tunnel. Before midnight on September 9, post pictures of one of the station's ads on Facebook or Twitter and tag it with #makejazz. Everyone who posts a picture is eligible to win a WBGO Host-An-Hour. As co-host, the winner can work with his/her favorite WBGO DJ, select songs from the extensive music catalog, and go ON-THE-AIR LIVE! At the end, the guest host will go home with a CD of the hour-long hosting experience.