Clarinetist/Saxophonist Anat Cohen conducts master class for high school musicians at
Salve Regina University on May 4

Newport Festivals Foundation™ and Salve Regina Present Free Student Program for Second Year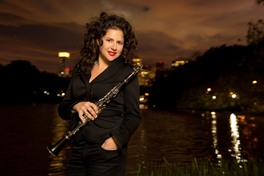 Anat Cohen (Photo credit: Jimmy Katz)
NEWPORT, RI – Stellar clarinetist/saxophonist Anat Cohen will conduct a master class and workshop for high school students on Saturday, May 4, from 10:00 a.m. to 4:00 p.m. at Salve Regina University. The free program, "Pathways to Jazz," which is presented for the second year by the Newport Festivals Foundation, Inc.™ and the Salve Regina University Department of Performing Arts, has attracted student musicians from throughout southern New England.

The program will kick off with comments and an introductory performance by Cohen and the master class teachers, and conclude with a performance by workshop participants. The program will be held in historic Ochre Court, 100 Ochre Point Ave.

Joining Cohen as workshop leaders will be some of the area's outstanding performers and educators including Mac Chrupcala (piano), Mike Renzi (piano), Joe Parillo (piano), Alan Bernstein (bass), Mike Coffey (drums), Gino Rosati (guitar) and Artie Montanaro (trumpet).