Ten-time Grammy Winner Arturo Sandoval Joins
the New, International ALFI Records for His Latest CD Release

Sandoval's "Live at Yoshi's"
to Be Distributed by Naxos of America on September 25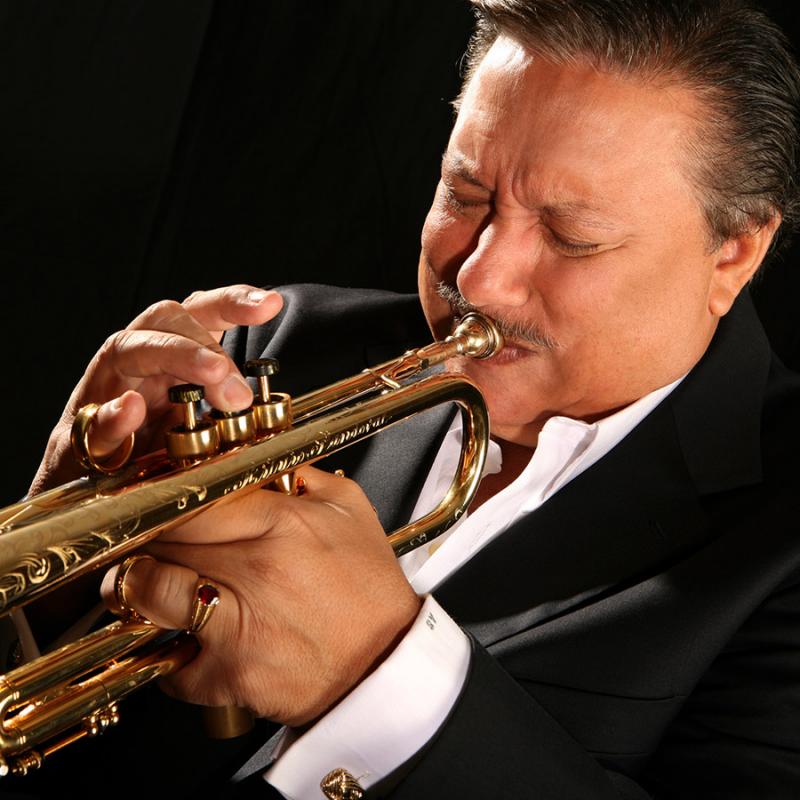 Melbourne, Australia, September 24, 2015 – ALFI Records, the innovative record label based in Melbourne, Australia, has a mission to build a label that is made by and for artists and treats them like family. Founded by virtuoso jazz guitarist Albert Dadon, aka Albare, ALFI is proud to introduce its newest family member, the brilliant trumpet player Arturo Sandoval, whose new album, Live at Yoshi's, will be available on September 25, 2015.

"Usually labels are reluctant to release live albums," says Albare. "We are not – depending on the artist, of course. In this instance, we have recorded three concerts at Yoshi's and released the best takes for the benefit of Arturo Sandoval's fan base and beyond."
That fan base is substantial. The prolific Cuban-born, Los Angeles-based Sandoval has squeezed a whole lot of living into his 65 years. His bio reads so much like a film script that his life was actually turned into an HBO movie starring Andy Garcia.
Trained in classical music at the Cuban National School of Arts, he furtively listened to jazz on the only station he could, Voice of America, where his love affair with jazz blossomed. After Sandoval met his idol, trumpet player Dizzy Gillespie, in 1977, they became protégé and mentor, a relationship that solidified in 1990 when Sandoval defected from Cuba while in Europe on tour with Gillespie's United Nation Orchestra. Eventually Sandoval settled in Miami and began his musical life anew as a jazz composer, performer, producer and bandleader, while remaining deeply committed to classical music and playing in orchestras all over the world. Joining the ALFI Records family is a reunion of sorts for Sandoval. Shortly after receiving political asylum in America, the trumpeter was signed by GRP Records, under the direction of A & R head, Carl Griffin, who is now Senior Vice President with ALFI, to release his U.S. debut,
Flight to Freedom
.
Sandoval is an award-winning musical talent in every way. He has been nominated for 19 Grammys and won 10. Six Billboard Awards grace his trophy room, as does his Emmy Award for the score of the HBO movie about his life,
For Love or Country
. In 2013, Sandoval was awarded the Presidential Medal of Freedom by President Barack Obama. He continues to write soundtracks, jazz and classical music while performing constantly. His fans are legion and he personally stays in touch with more than 75,000 friends and music lovers on his social media accounts.
Sandoval is now an elder statesman of Latin jazz, and he continues to embrace the rhythms and culture of native Cuba, with a cigar always at hand. But, he's still got the energy of a hungry newcomer. Part of his appeal is that, like his idol Dizzy Gillespie, he is the ultimate showman on stage. When he plays music – he is considered one of the finest trumpeters in the world, but he also sings and plays many other instruments ­– every note is thoughtful, precise. Meanwhile, he looks like he's having more fun than anyone else in the room whether he's on stage at the Super Bowl or in an intimate venue like Yoshi's, the Bay Area jazz club.
Live at Yoshi's
reveals what's essential to Sandoval. Partially, it's a greatest hits collection, a history of jazz lesson and a tribute to his heroes, Clifford Brown, Miles Davis and especially Gillespie, who remains deeply embedded in Sandoval's heart despite having passed in 1992. "You will notice in this album that Arturo sings a song to Dizzy," says label head Albare. "A good way to find whether you are human is to listen to "Dear Diz, Every Day I Think of You" and observe whether or not you get goose bumps. If you don't, check with a brain surgeon to see if your brain is possibly made of silicon."
Recorded in July,
Live
jumps right into the classic New Orleans "Second Line" and grabs the listener with a bright trumpet line. Next up is "Bebop Medley," followed by the tribute "Dear Diz, Every Day I Think of You." Then Sandoval bumps up the rhythm, switching to the Latin "El Manisero." In "Joy Spring," he salutes another trumpeter, Clifford Brown. The piano is the focus on "Sureña," and then Miles Davis gets his due in Sandoval's version of "Seven Steps to Heaven."
As the bandleader Sandoval generously encourages the other talented musicians on stage:
Rene Toledo
(guitar),
Dave Siegel
(keyboards),
Johnny Friday
(drums),
Kemuel Riog
(piano
), John Belzaguy
(bass),
Ricardo Pasillas
(percussion) and
Carlos Reyes
(violinist), who give it their all to make each note of every song count. The record is a special intimate event, a moment, a sonic experience magically caught in time that, fortunately, can be revisited on this ALFI release.
What Arturo Sandoval proves once again on
Live at Yoshi's
is that he is a master of this jazz universe we inhabit, a kindly eccentric uncle of sorts, aiming to educate, entertain and always jam together, the best part of a gathering of friends.
In addition to Arturo Sandoval, ALFI Records also is presenting records by
Joe Chindamo and Zoe Black
,
Phil Turcio
,
César Orozco
,
Xiomara Laugart
,
Axel Tosca Laugart
,
Darryn Farrugia
and label founder,
Albare
. In 2016, we plan to release one new album a month. Based in Melbourne, with branches in Nashville, New York, Los Angeles and Munich, ALFI Records is distributed in the United States by Naxos of America. For more information, please visit
www.alfirecords.com
.
# # #