MILES DAVIS AT NEWPORT 1955-1975: THE BOOTLEG SERIES VOL. 4 SCHEDULED FOR RELEASE JULY 17 THROUGH
COLUMBIA/LEGACY RECORDINGS

FOUR-CD BOX SET TRACKS MILES' ASCENDANCE OVER EIGHT LIVE FESTIVAL PERFORMANCES SPANNING 20 YEARS IN NEWPORT, NEW YORK, BERLIN, AND SWITZERLAND; 296-MINUTE PROGRAM INCLUDES NEARLY FOUR HOURS OF
PREVIOUSLY UNRELEASED MATERIAL

Newport Jazz Festival To Be Held July 31-August 2 Celebrates the Iconic Trumpeter's Relationship with the Legendary Newport Jazz Festival and Its Revered Founder-Impresario George Wein, Commemorating the 60th Anniversary Of Miles' Newport Debut With Musical Tributes, Workshops And More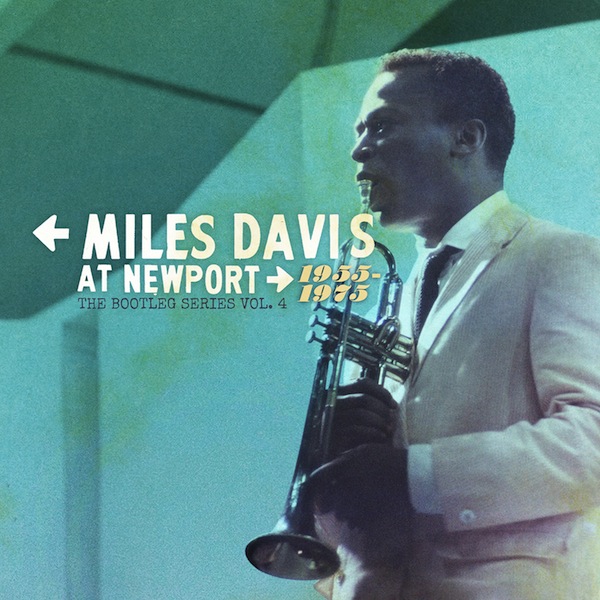 (April 30, 2015 – New York, NY) Miles Davis' 20-year association as an artist at impresario George Wein's renowned Newport Jazz Festival is a thriving tradition that will be celebrated with the release of MILES DAVIS AT NEWPORT 1955-1975: THE BOOTLEG SERIES VOL. 4. The four-CD box set, comprised of live performances by Miles' stellar band lineups in 1955, 1958, 1966, 1967, 1969, 1971, 1973, and 1975, in Newport, Rhode Island, New York City, Berlin, and Switzerland, will be the lynchpin for a 60th anniversary commemorative weekend of events at this summer's annual Newport Jazz Festival (July 31, August 1 & 2). Ahead of the festival, MILES DAVIS AT NEWPORT 1955-1975 will be available everywhere on Friday, July 17 -- 60 years to the date since Davis' breakthrough performance at Newport in 1955 -- through Columbia/Legacy Recordings, a division of Sony Music Entertainment. An interview with Newport Jazz Festival founder-impresario, George Wein, discussing his relationship with Miles Davis, can be viewed here: http://vevo.ly/GOueyx. Fans are now able to pre-order the 4-CD set bundled with a poster exclusively from MilesDavis.com (http://smarturl.it/miles_newport_d2c). The set is also available for pre-order on Amazon (http://smarturl.it/miles_newport_amzn).

The newest entry in Columbia/Legacy Recordings' critically-acclaimed Miles Davis Bootleg Series, NEWPORT 1955-1975 clocks in at 296 minutes, nearly four hours of which is previously unreleased. From Miles' debut performance at NJF in 1955 (a hastily arranged jam session featuring Thelonious Monk and Gerry Mulligan, that immediately led to the trumpeter's Columbia signing), to his final public perform­ance of the '70s in 1975 (at Lincoln Center during NJF-NY, the singular "Mtume" named for Miles' favored percussion­ist of that decade), the box set traces the ascendance of Miles' music as the ne plus ultra of jazz. The full-length concert performances alone of Miles' famed "Kind Of Blue" Sextet (with Cannonball Adderley, John Coltrane, Bill Evans, Paul Chambers, and Jimmy Cobb), and 'second great quintet in '66 and '67 (with Wayne Shorter, Herbie Hancock, Ron Carter, and Tony Williams) represent templates that reverberate in jazz and popular music to this day.

In that spirit, George Wein, who at age 89 still guides the Newport Jazz Festival, will preside over this summer's Miles-centric gathering, July 31, August 1 & 2. The lineup includes a cadre of bands led by trumpet stars Ambrose Akinmusire, Chris Botti, Peter Evans, Jon Faddis, Tom Harrell, Arturo Sandoval, and Bria Skonberg. In a rare, historic tribute, Botti, Evans, Faddis, Harrell, Sandoval and Skonberg will perform one Miles Davis number during their sets.

The festival weekend will feature a number of exciting panel discussions focusing on Miles Davis, created in conjunction with the Miles Davis Estate and curated by Grammy Award®-winning music historian Ashley Kahn. Highlights include an interview with George Wein conducted by New York Times critic Nate Chinen (co-author of Wein's autobiography Myself Among Others: A Life In Music); a celebration of Miles and the St. Louis trumpet tradition with excerpts from the Clark Terry documentary Keep On Keepin' On (produced by Quincy Jones); and a discussion of Miles's romance with electric guitars. There will also be a playback of music from the new Columbia/Legacy Recordings box set MILES DAVIS AT NEWPORT 1955-1975: THE BOOTLEG SERIES VOL. 4, with co-producer of the collection—Grammy Award®-winning producer Steve Berkowitz and consultant Nell Mulderry—and Miles's nephew, drummer Vince Wilburn, Jr. Kahn penned the liner notes to this set, noting how Miles's historic performances at the Newport Jazz Festival never failed to "show the trumpeter repeatedly rising to the occasion, delivering groundbreaking music every time he hit the Newport stage."

In this symbiosis, George Wein employed Miles to make Newport great, and Miles obliged by bringing some of the post-modern jazz era's paramount musicians to the festival stage in his bands. The Newport Jazz Festival (and starting in 1959, Wein's Newport Folk Festival) enabled audiences of 10,000 to dig the music in a surprisingly intimate setting, where you really could hear a pin drop. "When Miles played his solo on 'Round Midnight'," Wein remembers of that breakout 1955 jam, "he put his horn right up to the microphone, which trumpet players didn't do. Normally they like to get some air and play a little bit away from the mic but he put the bell of his horn right up against it, and it came through clear as a bell." In that moment, with that simple move, Wein states, "That's when he became the star of the festival and later [Columbia Records A&R man] George Avakian went up and signed him."

With his "ecumenical" music mix in these five- and six-hour programs – from traditional to bop, hard bop, and re-bop, from cool, modern and post-modern to jazz-rock, rock-jazz, blues and R&B – the contemporary music festival was sired by George Wein. As Kahn affirms, Wein "swayed generations of festival producers and impresarios – from groundbreaking one-offs like the Monterey International Pop Festival in 1967 and Woodstock in 1969, all the way up to today's genre-blending annuals like Coachella and Bonnaroo, [and in Europe] Glastonbury and Montreux."

Intrinsically and inextricably linked at the hip were Miles Davis and George Wein, from the first conversation Wein recalls with the trumpeter in 1952, at a little club in New Haven, "when [Miles] was playing with a band that Symphony Sid had put together with Percy Heath and Milt Jackson," Wein clearly recalls. Twenty years or so later, he memorably amped up the 1969 NJF program with Led Zeppelin, the Mothers of Invention, Jeff Beck, Sly and the Family Stone, and others. Miles was just six weeks away from recording the principal sessions for his all-time game-changing Bitches Brew, and his live band had replaced Hancock, Carter and Williams with Chick Corea, Dave Holland, and Jack DeJohnette.

With more electronic instrumentation, and broader drum patterns, Miles was quickly moving beyond the very jazz styles he had helped to create and popularize. Into the '70s, rock and R&B-rooted musicians like guitarists Pete Cosey and Reggie Lucas, electric bassist Michael Henderson, Mtume on percussion, plus jazz drummer Al Foster and a rotating cast of saxophonists came aboard. As Miles' scope expanded, Wein's festival became a week-long affair in Manhattan, then across Europe.

But to eyewitnesses, Newport Jazz Festival 1969 was ground zero, the big bang that informed Bitches Brew. "I remember that Miles always came to Newport and left as fast as he could," Wein told Kahn. "In '66, he came up in a boat and got to the stage in time to play, and was back on the boat and got the hell out of there. In '69, he stayed from the first day to the last, standing right by my shoulder… He watched every group and watched the response of the audience, who got the most applause, what music they were playing. He was studying. And that affected all the last years of his career."

MILES DAVIS AT NEWPORT 1955-1975: THE BOOTLEG SERIES VOL. 4 was produced for release by the multiple Grammy Award®-winning trio of Richard Seidel and Michael Cuscuna; with co-producer Steve Berkowitz. Executive producers for the Miles Davis Estate were Cheryl Davis, Erin Davis and Vince Wilburn, Jr. The music was mastered by Mark Wilder and Maria Triana at Battery Studios in New York City. All original concerts were produced by George Wein.

MILES DAVIS AT NEWPORT 1955-1975: THE BOOTLEG SERIES VOL. 4
(Columbia/Legacy Recordings 88875081952)
(All tracks previously unreleased, except where otherwise indicated)

CD 1: (July 17, 1955: Newport Jazz Festival, Newport, RI)

Selections: 1. Spoken Introductions by Duke Ellington and Gerry Mulligan • 2. Hackensack • 3. 'Round Midnight (previously released) • 4. Now's The Time •

(All-Star Jam Session: Miles Davis, trumpet; Zoot Sims, tenor saxophone; Gerry Mulligan, baritone saxophone; Thelonious Monk, piano; Percy Heath, bass; Connie Kay, drums.)

(July 3, 1958: Newport Jazz Festival, Newport, RI)

Selections: 5. Spoken Introduction by Willis Conover (previously released) • 6. Ah-Leu-Cha (previously released) • 7. Straight, No Chaser (previously released) • 8. Fran-Dance (previously released) • 9. Two Bass Hit (previously released) • 10. Bye Bye Blackbird (previously released) • 11. The Theme (previously released) .

(Miles Davis, trumpet; Cannonball Adderley, alto saxophone; John Coltrane, tenor saxophone; Bill Evans, piano; Paul Chambers, bass; Jimmy Cobb, drums.)

CD 2: (July 4, 1966: Newport Jazz Festival, Newport, RI)

Selections: 1. Gingerbread Boy • 2. All Blues • 3. Stella By Starlight • 4. R.J. • 5. Seven Steps To Heaven • 6. The Theme / Closing Announcement by Leonard Feather.

(July 2, 1967: Newport Jazz Festival, Newport, RI)

Selections: 7. Spoken Introduction by Del Shields • 8. Gingerbread Boy • 9. Footprints • 10. 'Round Midnight • 11. So What • 12. The Theme • 13. Closing Announcement by Del Shields

(1966 & 1967: Miles Davis, trumpet; Wayne Shorter, tenor saxophone; Herbie Hancock, piano; Ron Carter, bass; Tony Williams, drums.)

CD 3: (July 5, 1969: Newport Jazz Festival, Newport, RI)

Selections: 1. Miles Runs The Voodoo Down (previously released) • 2. Sanctuary (previously released) • 3. It's About That Time / The Theme (previously released) .

(Miles Davis, trumpet; Chick Corea, electric piano; Dave Holland, bass; Jack DeJohnette, drums.)

(November 1, 1973: Newport Jazz Festival In Europe, Berlin)

Selections: 4. Band warming up / voice over introduction • 5. Turnaroundphrase • 6. Tune In 5 • 7. Ife • 8. Untitled Original • 9. Tune In 5.

(Miles Davis, trumpet, organ; Dave Liebman, soprano saxophone, tenor saxophone, flute; Pete Cosey, guitar, percussion; Reggie Lucas, guitar; Michael Henderson, electric bass; Al Foster, drums; James Mtume Forman, percussion.)

(July 1, 1975: Newport Jazz Festival – NY, Avery Fisher Hall)

Selection: 10. Mtume.

(Miles Davis, trumpet, organ; Sam Morrison, soprano saxophone, tenor saxophone, flute; Pete Cosey, guitar, percussion; Reggie Lucas, guitar; Michael Henderson, electric bass; Al Foster, drums; James Mtume Forman, percussion.)

CD 4: (October 22, 1971 : Newport Jazz Festival In Europe, Neue Stadthalle, Dietikon, Switzerland)

Selections: 1. Directions • 2. What I Say • 3. Sanctuary • 4. It's About That Time • 5. Bitches Brew • 6. Funky Tonk • 7. Sanctuary.

(Miles Davis, trumpet; Gary Bartz, soprano saxophone, alto saxophone; Keith Jarrett, electric piano, organ; Michael Henderson, electric bass; Ndugu Leon Chancler, drums; Don Alias, percussion; James Mtume Forman, percussion.)


# # #