Newport Festivals Foundation, Inc.™ Exceeds Goal
for Doris Duke Charitable Foundation
Artistic Reserve Grant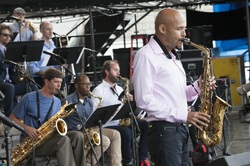 NEWPORT, RI, November 18, 2014 – Newport Festivals Foundation, Inc.™ (NFF) has exceeded its goal to raise $750,000 towards a three-to-one match to create a $1,000,000 artistic reserve grant from the Doris Duke Charitable Foundation (DDCF), it was announced today by George Wein, Chairman of NFF. The endowment is dedicated for the George Wein/Doris Duke Artistic Programming Fund, which will continue Mr. Wein's goal of presenting emerging artists and new works at the world-renowned Newport Jazz Festival®.

"We are proud to have raised the funds ahead of schedule, and we are grateful for many generous contributions," said Mr. Wein. "However, we couldn't have achieved this goal so quickly without the support of our dear friend Charlie Bourgeois. Charlie was with me from the very beginning, and his work with the press made the Newport Jazz Festival known around the world. He spearheaded the festival's public relations efforts until he died in January at the age of 94. Yet, even in death, his love and dedication for the festival continue to live on through his substantial financial donation. There is much more work to be done to secure the future of the Newport Jazz Festival, and we thank the Doris Duke Charitable Foundation for its ongoing support."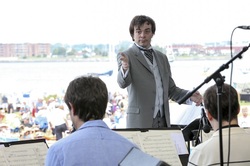 Ed Henry, President of the DDCF, stated, "The grant will be given special visibility as part of a larger effort to honor the Newport Jazz Festival, George Wein and Doris Duke. Providing a national commissioning and performance fund as part of the historic Newport Jazz Festival – held in the community of Doris Duke's home, Rough Point – will honor their legacies, now and in the future."
The 60th Anniversary of the Newport Jazz Festival presented by Natixis Global Asset Management, which was held Friday, August 1, through Sunday, August 3, 2014, introduced a third full day of music on Friday featuring emerging artists and new music. The programming included: Darcy James Argue's Secret Society, a 19-piece orchestra who performed the American debut of their new 35-minute work, "Tensile Curves," which was inspired by Duke Ellington's "Diminuendo and Crescendo in Blue"; Miguel Zenón, a saxophonist who presented a work inspired by the Puerto Rican experience in New York City and across the United States, based upon interviews and anecdotes relating to what it means to be Puerto Rican; Amir ElSaffar, an Iraqi-born composer who fused the sounds of the Middle East with jazz sensibilities; and Rudresh Mahanthappa, a soprano and alto saxophonist who debuted his new Charlie Parker-inspired project, including a new piece by Darcy James Argue's Secret Society.
The mission of the Doris Duke Charitable Foundation is to improve the quality of people's lives through grants supporting the performing arts, environmental conservation, medical research and the prevention of child abuse, and through preservation of the cultural and environmental legacy of Doris Duke's properties.
The Newport Festivals Foundation was founded by George Wein in 2010 to build and continue the legacies of the famed Newport Jazz Festival® and Newport Folk Festival®. Under the auspices of the Foundation, the festivals present performers who respect and honor jazz and folk music traditions, and at the same time reflect the changes in today's musical trends. Through the establishment of partnerships with local high schools, colleges/universities and other organizations, the Foundation will present programs to educate young people about jazz and folk music as presented at the annual festivals. For more information, please visit
www.newportfestivalsfoundation.org
.
The 2015 Newport Jazz Festival presented by Natixis Global Asset Management is set for July 31 – August 2, and will once again feature a full day of emerging artists on Friday. For more information, log on to
www.newportjazzfest.org
.
# # #
The Newport Jazz Festival® is a production of Newport Festivals Foundation, Inc.™, a 501(c)(3) non-profit corporation, duly licensed. All rights reserved.