Notes from The Wein Machine: Thank You!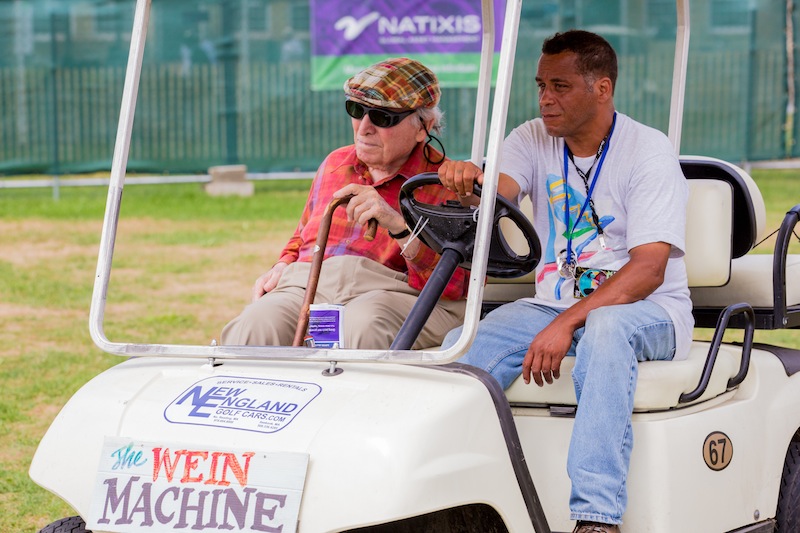 A Fantasyland. The past two weeks at the Newport Folk Festival and Newport Jazz Festival was just that. Two exciting, entertaining, enlightening, engaging, exuberant, exhilarating, evolving, emotional and occasionally damp festivals. It was a memorable 60th Anniversary for Jazz and 55th year for Folk.

To me, the stars of both festivals were the dedicated, music-loving fans, who in spite of rain on the Sunday of Folk and Saturday of Jazz, never gave up the joyous feeling that both festivals inspired.

Over 53,000 people attended these iconic festivals this year. Some memorable moments for me were the historic concert by Wynton Marsalis and the Jazz at Lincoln Center Orchestra, which showed ultimate respect for the history of the music born of Newport over the past six decades.

I missed what would have been for me the most emotional moment at the Folk Festival; when Jack White, in a tribute to Pete Seeger, led "a stirring, tearful rendition of 'Goodnight Irene.'' I think of nights at the festivals in the 60s when tears filled my eyes as thousands of people sang "This Land is Your Land" and "We Shall Overcome." Jack, please take this Wein Machine note as a personal thanks to you, for that moment.

Hugging and jiving with my old friend Mavis Staples was, of course, a highlight for me. I've known Mavis and her family since they first appeared at Newport in 1964.

Our experiment with John Zorn at the jazz festival was an unbelievable success. He had the attention of a capacity Quad Tent on Friday afternoon for two and a half hours.

Cécile McLorin Salvant's debut and Bobby McFerrin's long-overdue performance also stick in my mind.

A couple became engaged while my good friend, Ron Carter, was performing, perhaps exemplifying the feeling of love that surrounded Fort Adams during these festival weekends.

Our mission to present as many relatively new artists as possible was a great success and it was a thrill for me to see my old friend, the pianist and songwriter Allen Toussaint, excitedly having CDs signed by Darcy James Argue, who gave a brilliant set on Friday. We did miss having Dr. John at the jazz festival, but I'm glad to hear that he's on the mend.

It's difficult for me to find the words to express all of my thoughts about the past few weeks, but I can't help but feel that if we could all live our lives with the spirit and joy we all felt during these festivals, it would be wonderful.

Don't lose the beat,

GTW


Photo credit: Douglas Mason