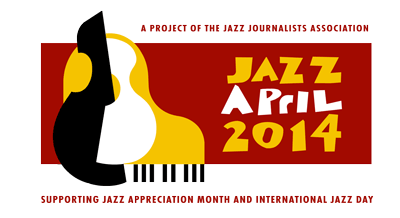 The Jazz Journalists Association Presents Grassroots JazzApril Initiative

"Jazz Heroes" To Be Honored in 22 Cities


NEW YORK, NY -
The Jazz Journalists Association presents its third annual
JazzApril
campaign, concurrent with the Smithsonian's
Jazz Appreciation Month
culminating in UNESCO's
International Jazz Day
(April 30). JazzApril supports JAM and Jazz Day by working with grassroots jazz activists to celebrate their local jazz scenes through imaginative use of media and strengthened collaborative networking.
In 21 U.S. cities and Toronto, Canada, jazz community activists will honor local "Jazz Heroes," people of extraordinary devotion and service described by the JJA as "activists, advocates, altruists, aiders and abettors of jazz."
The 2014 Jazz Heroes include music educators, festival producers, venue operators and presenters, broadcasters and journalists, a municipal cultural administrator, an instrument repair angel, and musicians who have mentored up-and-coming players and kept hometown audiences engaged. Jazz Heroes will be presented with engraved statuettes from the JJA during April public events in Atlanta, Baltimore, Bloomington IN, Boston, Chicago, Columbia MO, Detroit, Durham NC, Kingston NY, the Litchfield, CT region, New Orleans, New York, Newark, Pittsburgh, Portland OR, Santa Cruz, the SF Bay Area, Seattle, Schenectady, Tallahassee, Toronto and Washington, DC.
Organizations collaborating on Jazz Hero events include the Art of Cool, Atlanta Jazz Festival, A Place for Jazz, Berklee College of Music, B Sharp's Jazz Café, Jazz from Bloomington, JazzBoston, Jazz Institute of Chicago, Elastic Arts, the Ella Fitzgerald Foundation, JazzStock, Kuumbwa Jazz, the Litchfield Jazz Festival, Manchester Craftsmen's Guild, the Portland Jazz Festival, "We Always Swing" ® Jazz Series and Yoshi's.
Previous Heroes have been jazz club owners, health care providers, philanthropists, educators, record industry executives, broadcasters, arts administrators and musicians whose personal influences have gone beyond the sounds of their performances to improve the quality of life even for people out of earshot. Jazz Heroes receive engraved statuettes from the JJA, presented at free public parties. In many locales, Jazz Heroes have been covered by local media and mentioned in mayoral proclamations endorsing local jazz.
The JJA's JazzApril campaign, conducted annually since 2012, has provided concepts, contacts, suggestions and support for publicizing the creative vitality and economic viability of America's indigenous "classic" yet contemporary music. Jazz fans, businesses, arts organizations, musicians, journalists, presenters, educators and government officials are invited to participate using any of the wide variety of low or no-cost ideas posted at
JazzApril.com
. JazzApril, JAM and IJD graphics are available for downloading.
Sponsors of the JJA's JazzApril, Jazz Heroes and Jazz Awards include The Jazz Cruise, North Coast Brewing Company, the Ella Fitzgerald Foundation, Berklee College of Music, Century Media Partners LLC, the Jazz Institute of Chicago, JazzBoston, the Manchester Craftsmen's Guild, Motéma Music, Jazz Promo Services, DeBlazeandAssociates.
The Jazz Journalists Association is a 501 (c ) (3) nonprofit organization of writers, photographers, broadcasters, videographers, new media producers and their affiliates professionally involved with jazz. Further information from Howard Mandel,
President@JazzJournalists.org
, or
www.JazzApril.com.
# # #