"Newport Jazz Festival®: Now 60" Tour
Celebrates Iconic Rhode Island Festival
at Jazz Standard
March 4 – 6, 7:30/9:30 pm; March 7- 8, 7:30/9:30/11:30 pm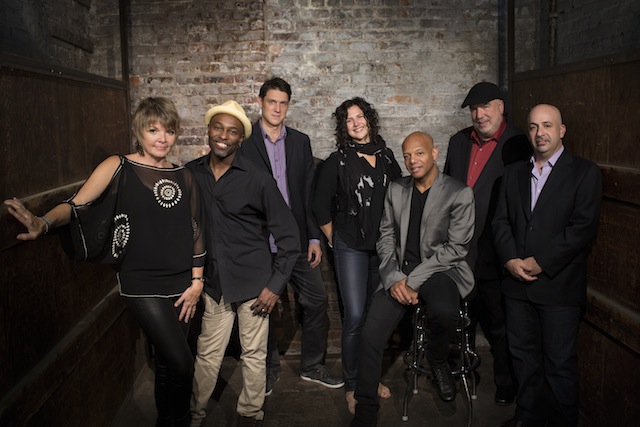 Karrin Allyson, Clarence Penn, Ben Allison, Anat Cohen, Mark Whitfield, Randy Brecker and Peter Martin (Photo Credit: Jimmy Katz)
NEWPORT, RI, February 19, 2014 –
In celebration of the 60th anniversary of the world-renowned Newport Jazz Festival® (August 1-3, 2014), the "
Newport Jazz Festival®: Now 60" Tour
makes a stop in New York City at the
Jazz Standard
, 116 East 27th Street,
March 4-8
. Featuring clarinetist/saxophonist
Anat Cohen
, vocalist/pianist
Karrin Allyson
, bassist
Ben Allison
, pianist
Peter Martin
, guitarist
Mark Whitfield
, trumpeter
Randy Brecker
and drummer
Clarence Penn
, the band has been receiving rave reviews since it kicked off a 17-city tour on February 8 in Atlanta. The first leg of the tour winds down March 30 and will continue with more dates during June, July and August in North America and Europe (including a set at its namesake festival on August 2).
Set times at the Jazz Standard are 7:30 pm and 9:30 pm on March 4-6, with an 11:30 pm set added on March 7-8. For tickets and more information, call (212) 576-2232 or visit
www.jazzstandard.net
.
This multi-gender, multi-national and multi-generational group of musicians was especially selected by festival founder/producer George Wein and with his long-time associates and the tour's producers, Danny Melnick of Absolutely Live Entertainment, LLC and Darlene Chan of FestivalWest, Inc., to represent the incredible diversity of talent that the Newport Jazz Festival® has presented over the last six decades. (Melnick is also the associate producer of the Newport Jazz Festival®.)

"These musicians come from different parts of the country, different parts of the world and from different eras of jazz and they offer an excellent census of where the music has been, where it is and where it's going," said Wein. "Together, they represent the festival's 60-year goal: to bring the best and brightest jazz musicians to present musical experiences that fans will remember for a lifetime."

In addition to the Jazz Standard, tour stops include the Merriam Theater, Philadelphia, PA; Walt Disney Concert Hall, Los Angeles, CA; Gem Theater, Kansas City, MO; Old Town School Of Folk Music, Chicago, Il; Mendel Center, Benton Harbor, MI; and Sheldon Concert Hall, St. Louis, MO.

THE ARTISTS
Born in Tel Aviv, Israel, clarinet/tenor saxophonist Anat Cohen, comes from a musical family that includes her brothers, saxophonist Yuval and trumpeter Avishai. She studied clarinet at the age of 12, and attended the Tel Aviv School for the Arts, the "Thelma Yellin" High School for the Arts and the Jaffa Music Conservatory. She played tenor saxophone in the Israeli Air Force Band, from 1993 to 1995, enrolled at the Berklee School of Music, and moved to New York City in 1999, where she worked with a number of bands including the Diva Jazz Orchestra, drummer Dudu Da Fonseca's Samba Jazz Quintet and the Choro Ensemble. In 2005, she created her own label, Anzic Records, and released Noir and Poetica (2007), Notes from the Village (2008), and Clarinetwork: Live at the Village Vanguard (2010). Hailed by Nat Hentoff as a musician who "…tells stories from her own experiences that are so deeply felt that they are very likely to connect listeners to their own dreams, desires and longings," Cohen's latest CDs, Claroscuro (2012), brilliantly blends jazz with New Orleans, African and Brazilian genres, and Tightrope (2013), her fourth release with her two brothers, together called the 3 Cohens.

Hailed by the Boston Globe as one of "… today's best young jazz musicians," bassist Ben Allison is one of the most ubiquitous bassists on the scene. The New Haven, Connecticut native has worked with an impressive and diverse array of artists, from Lee Konitz and Joe Lovano, to performance artist Joey Arias and US Poet Laureate Robert Pinsky. Allison's 10 CDs as a leader include Seven Arrows (1996), Medicine Wheel (1998), Third Eye (1999), Riding the Nuclear Tiger (2001), Peace Pipe (2002), Buzz (2004), Cowboy Justice (2006), Little Things Run the World (2008), Think Free (2009), Action-Refraction (2011) and The Stars Look Very Different Today (2013).

Born in Great Bend, Kansas, raised in Omaha, Nebraska and Northern California, Karrin Allyson, "… brings a timbre that is part ice and part grain — incisive, original, and emotionally convincing" according to critic Gary Giddins. After graduating from the University of Nebraska in 1987 with a degree in classical piano and a minor in French, Allyson, gigged at a Kansas City nightclub, and signed with Concord Records in 1992, which released her debut recording, I Didn't Know About You. The four-time Grammy nominee has since recorded over 10 CDs as a leader including Footprints (2006), Imagina: Songs of Brazil (2008), Round Midnight (2011) and a holiday pleaser, Yuletide Hideaway (2013).

The Philadelphia-born Randy Brecker – who constituted one-half of the famed Brecker Brothers Band with his saxophonist brother, Michael – has been one of the most diverse and in-demand trumpeters of the last four decades. He grew up playing in R&B, soul and rock bands in Philadelphia, and was influenced by Lee Morgan, Clifford Brown, Sonny Rollins and Miles Davis. He attended Indiana University from 1963 to 1965, where he played with Booker T. and The MG's and IU Big Band. He moved to New York City the next year, and worked with Thad Jones/Mel Lewis Jazz Orchestra, the Duke Pearson Big Band, recorded two albums with Blood, Sweat and Tears, and worked in Horace Silver's quintet. Brecker was also a member of Art Blakey's Jazz Messengers and co-founded the seminal jazz fusion group, Dreams. With over 20 recordings as a leader to his credit, Brecker's latest CDs include Randy Brecker Plays Wlodek Pawlik's Night in Calisia (2013) and Brecker Brothers Band Reunion (2013).

Hailing from St. Louis, Missouri, pianist Peter Martin is one of the most rooted and revelatory musicians on the scene. The son of parents who were classical musicians, Martin studied the violin and the piano at the age of three. After he graduated from high school, he received the Presidential Scholar in the Arts award from President Reagan, attended The Juilliard School in New York on scholarship, where he studied with Martin Canin, and moved to New Orleans in 1990, where he has worked with Nicholas Payton, Germaine Bazzle, Chris Thomas, Alvin Batiste, Brian Blade and Victor Goines. Martin toured and recorded with artists such as Betty Carter, Wynton Marsalis, Dianne Reeves, Chris Botti, Joshua Redman, Christian McBride, Roy Hargrove, and the Jazz at Lincoln Center Orchestra. He also performed with the Berlin Philharmonic with Simon Rattle, the Chicago Symphony Orchestra, the New York Philharmonic, and the Sydney Symphony. With over five CDs as a leader, his latest record, Set of Five (2009), is a solo piano tour de force.

A native of Detroit, Michigan, and a graduate of Interlochen Academy, Clarence Penn attended the University of Miami and Virginia Commonwealth University, where Ellis Marsalis was a faculty member. He moved to New York City in 1991 and was hired by Betty Carter. Penn has worked with Stanley Clarke. Christian McBride, Michael Brecker, Dizzy Gillespie, Luciana Souza, Gary Burton, Joshua Redman, Richard Galliano, Gonzalo Rubalcaba, Charlie Haden, Makoto Ozone and Maria Schneider. His CDs as a leader include Penn's Landing (1997), Play-Penn (2001), Saomaye (2002), A Master's Diary (2012) and Dali in Cobble Hill (2012).

Known as "The Marksman" when he burst on the scene during the "Young Lions" decade of the nineties, guitarist Mark Whitfield takes the approaches of George Benson, Grant Green and Kenny Burrell to a whole new level. A graduate of the Berklee College of Music, Whitfield has worked with a wide variety of musicians, from Dizzy Gillespie, Herbie Hancock and Carmen McRae, to Wynton Marsalis, Ray Charles and Betty Carter. He's also worked with many pop stars including Sting, Jill Scott, and Mary J. Blige. He released his debut CD, The Marksman in 1990, and has recorded over 11 releases as a leader, including his latest, Songs of Wonder (2009), a tribute to Stevie Wonder. He toured with the band Jazz Futures, which was created in 1991 by George Wein to celebrate the next generation of jazz.

Featuring a diverse group of improvisers brought together to celebrate the anniversary of a legendary festival, this and other dates on the tour will no doubt present jazz with one foot in its proud past, and another pointing toward its bright future.

NEWPORT JAZZ FESTIVAL® HISTORICAL HIGHLIGHTS
With the 60th anniversary of the Newport Jazz Festival® approaching, thousands of fans will no doubt reflect on some of the historical highlights of the event that have become, through memory, recordings and film, touchstones of the American cultural landscape. Two of the most famous performances in the festival's history are Miles Davis' 1955 solo on "'Round Midnight" and the Duke Ellington Orchestra's lengthy 1956 performance of "Diminuendo and Crescendo in Blue," featuring a 27-chorus saxophone solo by Paul Gonsalves. The 1964 album Miles & Monk at Newport documented respective appearances by Davis in 1958 and Thelonious Monk in 1963; Davis' band included John Coltrane and Monk's featured Pee Wee Russell.

Other early performances documented on commercially released recordings include the 1957 appearances by Ella Fitzgerald, Billie Holiday and Carmen McRae (Ella Fitzgerald and Billie Holiday at Newport, 1958); those by the Gigi Gryce-Donald Byrd Jazz Laboratory and the Cecil Taylor Quartet featuring Steve Lacy, released on At Newport also in 1958; and performances at the 1960 festival by Muddy Waters and Nina Simone, released as the albums At Newport 1960 and Nina Simone at Newport. Films chronicling the Newport Jazz experience include "Jazz on a Summer Day," a documentary of the 1958 festival which includes sets by Dave Brubeck, Ray Charles and Miles Davis; and a film released by Storyville of the 1962 event which featured Lambert, Hendricks & Bavan, the Oscar Peterson Trio, Roland Kirk, Duke Ellington and the Count Basie Orchestra featuring Jimmy Rushing.

Today, the Newport Jazz Festival® continues to present a multi-generational celebration of jazz. With annual line-ups filled with a wealth of established jazz giants and emerging stars, fans joyfully witness generational batons being passed back and forth – Esperanza Spalding walking the line with Wayne Shorter … Anat Cohen defying her age with George Wein and his Newport All-Stars … Julian Lage trading licks with Jim Hall … Grace Kelly blowing up a storm with Phil Woods. Through countless memorable musical moments with Wynton Marsalis, Joshua Redman, Gregory Porter, Rudresh Mahanthappa, Trombone Shorty, Diana Krall, Darcy James Argue, Jon Faddis, Maria Schneider, Jamie Cullum, Terence Blanchard, Robert Glasper and many others, the Newport Jazz Festival®, under the auspices of the 501 (c) (3) Newport Festivals Foundation, Inc.™, looks forward to many more decades as the leading purveyor of the best of yesterday, today and tomorrow.

The 60th Anniversary Newport Jazz Festival® presented by Natixis Global Asset Management will take place from Aug. 1-3, 2014 in Newport, RI. More information on the festival can be found at newportjazzfest.org

The Newport Jazz Festival® is a production of Newport Festivals Foundation, Inc.™, a 501(c)(3) non-profit corporation under license from George Wein. All rights reserved.

# # #