Dr. Glory's Youth Theatre and The Riverside Theatre Present
Everything Is A Part of Everything,
A Free, Family Event on Sunday, December 8,
2:00 pm

Youth Perform in Educational Play about Saving Our Planet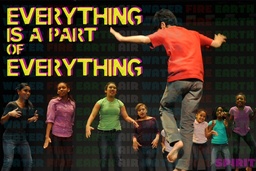 NEW YORK, NY, November 25, 2013 – Dr. Glory's Youth Theatre, a cast of young actors from upper New York, returns to the stage at the Riverside Theatre in Riverside Church, 91 Claremont Avenue in Manhattan, on Sunday, December 8, at 2:00 pm in an original production that showcases the effects of Global Warming and how everyone can help save the planet. The script, music and lyrics are written, directed and choreographed by Dr. Glory Van Scott, noted theatre educator, author, producer, dancer and playwright.

Using spoken word, song and dance, the play features four Elements – Air, Water, Fire and Earth – who decide that human beings have done a poor job of solving the issues surrounding the planet's Global Warming. Gathering their forces, they take the problem to two Justices of the Supreme Court. Each Element argues and fights bitterly with the other, all hoping to selfishly reign supreme. To the surprise of all, a fifth Element – Spirit – appears and teaches Patience, Love and Respect along with an understanding of humans, their destiny and the universal knowledge that "everything is a part of everything."

Riverside Church is conveniently located at 91 Claremont Avenue, between 120th and 122nd Streets, in the Morningside Heights section of Manhattan. By subway, take the 1 train to 116th Street, walk to Claremont Avenue, one block West of Broadway. For drivers, there is on-street parking and a lot under the church. For more information, call (212) 870-6784.


# # #