WBGO-FM/Jazz 88.3 Receives Eight Honors from
Public Radio News Directors, Inc.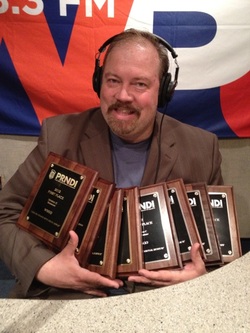 WBGO News Director Doug Doyle
NEWARK, NJ, July 8, 2013 – Jazz station WBGO Jazz 88.3 FM received eight national Public Radio News Directors, Inc. (PRNDI) Awards Saturday, June 22, in Cleveland, Ohio. WBGO News Director Doug Doyle accepted four First Place and four Second Place awards on behalf of the station.

"The WBGO News Department was recognized for what we do best, covering the stories that matter the most to our listeners and presenting them in thoughtful and informative ways," said Doyle. "To share a little of the spotlight with journalism giants like John Dinges and Scott Simon was a thrill, especially when both acknowledged they respect the work we do at WBGO. Being recognized by our peers and confirming that we are providing a valuable service to the listening community are what make the PRNDI Awards mean so much to us."

WBGO received PRNDI awards in the following categories:
· First Place – News/Public Affairs Program: "The WBGO Journal, November 2, 2012" (This edition hosted by Andrew Meyer with contributions from the staff)
http://bit.ly/12mtCGz
· First Place – Newscast: "Jazz 88 Update with Doug Doyle" (Doug Doyle anchor with staff reporters)
http://bit.ly/18wuXC1
· First Place – Enterprise/Investigative: "One Muslim's Battle For Justice" (Monica Miller reporter)
http://bit.ly/13m5t9j
· First Place – Commentary: "TV Food Fight" (Father Hugh Burns commentator)
http://bit.ly/11hoIzA
· Second Place – Continuing Coverage: "Superstorm Sandy Preparations and Aftermath" (WBGO staff)
http://bit.ly/121p7EJ
· Second Place – Soft Feature: "The Rise Of The Virtual Museum" (Katie Colaneri reporter)
http://bit.ly/1b8d6kp
· Second Place – Spot News: "Sandy Smacks Union Beach" (Doug Doyle reporter)
http://bit.ly/19UkBKb
· Second Place – Interview: "SportsJam With Doug Doyle - Jim Brown" (Doug Doyle host)
http://bit.ly/13sI9FX
The Master of Ceremonies was NPR's Scott Simon, who told the banquet crowd that he listens to the WBGO Journal when he is in New York and that it is one of his favorite stations.
WBGO has won 64 PRNDI Awards since 1998. In addition to the PRNDI Awards, the News Department previously brought home three First Place honors in the Radio Category at the 2013 New York Association of Black Journalists (NYABJ) in May.
ABOUT WBGO
Founded in 1979, Newark Public Radio, Inc. is a publicly supported cultural institution that champions jazz at WBGO 88.3 FM in Newark, New Jersey and worldwide via wbgo.org. WBGO is the recognized world leader in jazz radio and one of the most respected jazz presenters in the country, and offers award-winning news and innovative children's programs. Beyond reaching 400,000 weekly listeners (including 17,000 contributing members) on air, online and via mobile devices, WBGO presents live broadcasts from prestigious jazz venues and produces acclaimed programs for NPR heard by millions. WBGO is Jazz Week magazine's 2010 Major Market Station of the Year.
# # #