TRANSART & Cultural Services, Inc.
Celebrates the 13th Annual
Jazz in the Valley Festival
Sunday, August 18,
at Waryas Park in Poughkeepsie
featuring
Sax Appeal with Jimmy Heath, Gary Bartz, Donald Harrison & Javon Jackson; Maurice Brown; Houston Person; Danny Mixon; 3D Ritmo De Vida; Mike Torsone; Maluwa; Charles Eubanks; and More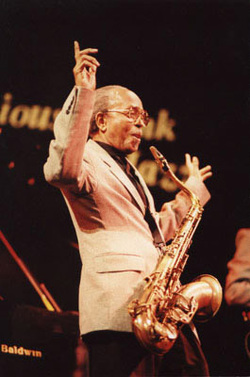 Jimmy Heath (Photo credit: Steve Mundinger)
Poughkeepsie, NY, July 01, 2013 – TRANSART and Cultural Services celebrates the 13th Annual Jazz in the Valley at Waryas Park on Main Street on the beautiful banks of the Hudson River in Poughkeepsie, NY on Sunday, August 18, at 11:00 am. The festival continues the tradition of intergenerational programming, this year in two unique performance areas, including the Main Stage and the Pavilion Stage, which is free and open to the public. Don't miss Sax Appeal with Jimmy Heath, Gary Bartz, Donald Harrison and Javon Jackson; Maurice Brown; Houston Person; Danny Mixon; Denise Thimes; Mike Torsone; Karen Taylor; and 3D Ritmo De Vida on the Main Stage plus Maluwa, Charles Eubanks Trio with Warren Benbow and Ratzo Harris; Thomas, Bonga and Joakim; UArts Alumni Quartet; and Big Joe Fitz and the Lo-Fi's on the Pavilion Stage.

"We are thrilled to return to Waryas Park for the second year to not only share world-class entertainment, but also a picture perfect setting along the banks of the Hudson River," said Greer Smith, founder of TRANSART & Cultural Services and producer of Jazz in the Valley. "To have reached our 13th year of presenting this festival in the heart of the Hudson Valley is testament to the power of jazz and the desire and willingness of fans to continue to seek diverse venues for this special celebration of this great music known as jazz. We are adding a stage that is free and open to the public. The Pavilion Stage will introduce new artists, and tell the history of America's music in all its forms. We look forward to seeing old friends who have returned year after year and to making new friends who will build upon the tradition."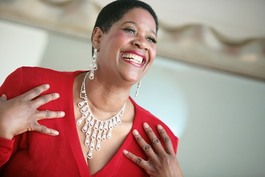 Denise Thimes
"We are pleased to have Jazz in the Valley in the City of Poughkeepsie and we look forward to sharing our beautiful waterfront with individuals and families who come to hear the sounds of jazz in Waryas Park," said Mayor John C. Tkazyik.

"Like the diverse forms and rich history of jazz, our city is a work of art and we encourage festival attendees to experience not only the music, but also the region's many scenic and historic sites," added Robert Mallory, Chairperson of the Poughkeepsie Common Council. The addition of the Pavilion Stage will allow more young people, seniors and members of the community to experience this music."

"Joining forces with TRANSART and Jazz in the Valley is an exceptional partnership," said Charles S. North, President and CEO of the Dutchess County Regional Chamber of Commerce. "Conveniently located between Albany and New York City, Dutchess County is a perfect meeting place for visitors and area residents to come together to listen to America's music – jazz."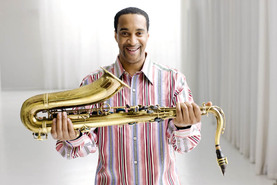 Javon Jackson
About the Artists

Four of the hottest saxophonists on today's jazz scene blow up a storm every time they get together as the super group Sax Appeal. For seven decades the Philly-bred, tenor saxophonist, educator, composer and NEA Jazz Master Jimmy Heath – the oldest member of the famed Heath Brothers and the father of R&B producer Mtume – was known as Little Bird; but, there is nothing small about this jazz giant who has performed with Howard McGhee, Dizzy Gillespie, Miles Davis, Kenny Dorham, Milt Jackson and Art Blakey. Donald Harrison grew up in a home environment saturated with New Orleans traditional music of brass bands, parades, modern jazz, R&B, funk, classical, world ethnic, and dance music. His connection to New Orleans is ever present in his music, but his powerful sound and passion reach far beyond the Big Easy. Grammy Award winning Gary Bartz first came to New York In 1958 and soon began performing throughout the city with the Max Roach/Abbey Lincoln Group, Art Blakey's Jazz Messengers, Charles Mingus, and McCoy Tyner, with whom he continues to perform and record. Javon Jackson came into international prominence as a member of Art Blakey and the Jazz Messengers and went on to tour and record with Elvin Jones, Freddie Hubbard, Betty Carter, Cedar Walton, Ron Carter, Donald Byrd, Dr. Lonnie Smith, and Stanley Turrentine while making his mark as a formidable band leader.

Eight years after his highly celebrated debut album "Hip to Bop" hit the jazz world with a staggering, original sound, trumpeter Maurice Brown continues to explore and expand all musical boundaries, winning a Grammy for his intuitive musical vision and sonic horn playing.

Vocalist Denise Thimes has astounded audiences all over the world with some of the most prominent names in jazz including Clark Terry, James Moody, and several other NEA Jazz Masters.

At the age of 13 Danny Mixon began piano lessons, including studies with Sir Roland Hanna. By the time he was 17, he was invited to play with Sam Brown and Patti Labelle and the Blue Bells and went on to perform with Betty Carter, Charles Mingus, Lionel Hampton, Joe Williams, Savion Glover, Yusef Lateef, Hank Crawford, Dee Dee Bridgewater, Pharaoh Sanders and Chaka Khan, among others.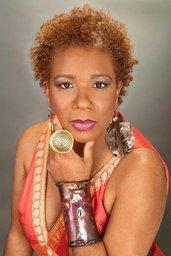 Karen D. Taylor
Although he is revered in hard bop and swing genres,
Houston Person
is best known for his work in soul jazz, his distinctive sassy sound and his expressive style of playing. He received the Eubie Blake Jazz Award in 1982 and spent many years as the musical partner for vocalist Etta Jones. He has also recorded with Charles Brown, Bill Charlap, Charles Earland, Lena Horne, Lou Rawls, Horace Silver, Dakota Staton, Billy Butler and Richard "Groove" Holmes.
Karen D. Taylor
, who will present a tribute to Jayne Cortez, mixes music and spoken word, creating a broad canvas of sound and language. She conceptualized the music-spoken word piece, "Freedom, Life, and Love: A Jazz Tribute to Malcolm X," which was presented at the Malcolm X and Dr. Betty Shabazz Center. She has performed at many venues in the northeast including the Schomburg Women in Jazz Festival, the Bethlehem MusikFest.
Mike Torsone
developed his smooth, cool sound of jazz on the Hammond B3 organ, but learned to play using an old 1890's pump organ in the family funeral business while listening to Ray Charles records. Michael received his first Hammond organ as a High School graduation present in 1971, which led to his future as an accomplished musician and vocalist as well as a master Hammond organ/Leslie tone cabinet technician.
Dishing up a tight, bright, infectious blend of island rhythms, contemporary jazz world-music hybrid of salsa, soca, frocuno and gospel,
3D Ritmo de Vida
draws from this multitude of influences to create a cohesive musical sound. Drummer Michael Tate and guitarist Chris Amelar formed 3D in 1999 to write and perform music that is diverse, dynamic and danceable. While their recordings feature original material, live performances by the band they also include inspired interpretations of a wide variety of popular music. Regardless of the style they choose, the audience will definitely end up dancing.
Maluwa
was born in Malawi, Africa, and her social and political awareness were nurtured through her parents' global travels. She grew up in California and the Hudson River Valley. This provided the backdrop that has shaped her thoughts, opinions, and, most importantly, her concept of music and its impact on the world. All of her music reflects the deep struggles that most people encounter some time in their lives. It is through her music that Maluwa becomes the advocate for disempowered, disenfranchised and disowned victims of social abuse.
Pianist
Charles Eubanks
is a veteran of the Motown studios of the 1960's. He has played with Bobby Hutcherson-Harold Land Quintet, Dewey Redman, Kenny Clarke, Woody Shaw, Art Blakey, Max Roach, Frank Foster, Pharaoh Sanders and countless other jazz greats.
Big Joe Fitz
is a warm and engaging performer, a singer of uncommon sensitivity whose roots are deep in the Blues, but also combines elements of jazz, swing, funk, and soul in his music. He has shared the stage with The Holmes Brothers, Marcia Ball, Mighty Sam McClain, Eddie Kirkland, Little Sammy Davis, Madeleine Peyroux, Tad Robinson, Bruce Katz, Janiva Magness and more.
Thomas, Bonga and Joakim
is a dynamic musical whirlwind made up of percussionist and storyteller
Joakim Lartey
, multi-instrumentalist
Thomas Workman
and multi-instrumentalist and master Haitian drummer
Bonga Gaston Jean-Baptiste
.
The legacy continues with the
UArts Alumni Quartet
, led by
Joe North,
the son of the Dutchess Regional Chamber of Commerce. The saxophonist recently completed his Master's degree in Jazz Studies at Pennsylvania University of the Arts and as one fan put it, "This group of young men can swing!"
Tickets and Other Information
Early Bird discount tickets are $35 before August 1; after August 1, tickets are $45 and $55 at the gate. For tickets, group sales and more information about Jazz in the Valley, contact TRANSART at (845) 384-6350 or log on to
www.jazzinthevalleyny.org
. For tickets in the Hudson Valley, contact Blue Byrd's at (845) 339-3174, 350 Wall Street, Kingston, NY; and Measured To Fit at (845) 297-8345, 1668 Route 9 , Wappingers Falls, NY.
Get a ticket and travel combination: Travel by bus to Jazz in the Valley and leave the driving to Rodeo Rich Washington (646) 220-9051 or Jazzy Jazz
,
Lorenzo Patton (917) 345-1357 and Tyrone Woods at (646) 643-3035.
Promotional partner for Jazz in the Valley is Metro North. Take the train from Grand Central Terminal to Poughkeepsie Station and walk one short block to the festival.
TRANSART & Cultural Services, Inc. is a non-profit arts organization dedicated to promoting awareness of the art, history and popular culture of peoples of African descent.
# # #