WBGO Jazz 88.3 FM Celebrates 20th Anniversary of Kids Jazz Concert Series
with Five Free, Interactive Programs for Young People

2013 Spring Series Includes Concerts Featuring
Bobby Sanabria, Mimi Jones, Lenny White, Lauren Hooker and Michael Wolff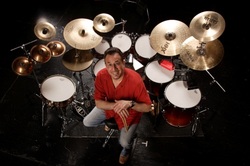 Bobby Sanabria
NEWARK, NJ, March 26, 2013 – WBGO Jazz 88.3 FM celebrates the 20th anniversary of the award-winning Kids Jazz Concert Series with five, free interactive programs for young people. The celebration features percussionist Bobby Sanabria at Newark Symphony Hall on April 6; bassist/vocalist Mimi Jones, Montclair Art Museum, April 13; drummer Lenny White, Newark Museum, April 20; vocalist Lauren Hooker, Luna Stage, April 27; and pianist Michael Wolff, New Jersey Performing Arts Center, May 4.

Through the generous support of the Agnes Varis Trust, whose mission is supporting affordable access to the arts, education and healthcare, along with support from PNC and the Coleman Family Charities, the 2013 Spring Kids Jazz Concert Series will be widely accessible to more young people than ever before. The grant will support a newly-launched program to provide transportation to youth organizations in Essex County to get young people to and from the Saturday afternoon concerts.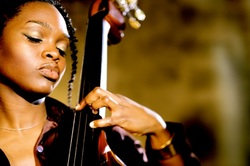 Mimi Jones
The series presents top jazz and blues artists who produce programs tailor-made for young people, leaving time for further exploration of the music through Q&A sessions with the artists. The interactive programs give young people opportunities to learn about the distinct qualities of jazz, and why it is a reflection of the community, the nation, and the world. In addition to the music, the events include door prizes, a gift for each child and a fun-filled afternoon with other young jazz lovers.

"We're pleased to share our 20th anniversary Kids Jazz Concert Series with young people throughout the area, and we are elated that Agnes Varis Trust, PNC and Coleman Family Charities have made it possible to provide transportation for more kids to attend," said Dorthaan Kirk, producer of the Kids Jazz Concert Series and WBGO's Director of Community Relations and Special Events. "Our Spring series includes an exciting and diverse line-up of artists to give the kids a fun look at jazz, Latin jazz, spirituals, the blues and beyond. It's a great way to spend a Saturday afternoon with the young people in your life."

The hour-long concerts are free and open to the public, but adults must be accompanied by a child.

The 20th anniversary WBGO Kids Jazz Concerts Series features:
April 6, 12:30 pm –
Bobby Sanabria & Ascension:
What Is Latin Jazz?
Newark Symphony Hall, 1020 Broad Street, Newark, New Jersey 07102
(973) 643-8014 /
www.newarksymphonyhall.org
Bobby Sanabria, drummer/percussionist, composer, arranger, recording artist, producer, filmmaker, conductor and educator, is guaranteed to get the audience moving when he presents a dynamic program featuring the idioms, concepts and historical timeline of Afro-Caribbean and Pan-American rhythms fused with jazz. He has performed with a Who's Who in the world of jazz and Latin music, as well as with his own critically acclaimed ensembles. His diverse recording and performing experience includes work with legendary figures including Dizzy Gillespie, Tito Puente, Paquito D'Rivera, Charles McPherson, Mongo Santamaría, Ray Barretto, Roswell Rudd, Chico O'Farrill, Candido, Henry Threadgill, and the Godfather of Afro-Cuban Jazz, Mario Bauzá. His latest CD,
Multiverse
, earned two Grammy Award nominations this year for Best Latin Jazz Album and Best Instrumental Arrangement.
April 13, 12:30 pm –
Mimi Jones Quartet: We All Get the Blues
Montclair Art Museum, 3 South Mountain Avenue, Montclair, NJ 07042
(973) 746-5555 /
www.montclairartmuseum.org
Mimi Jones, talented bassist, vocalist and composer, gives a blues history lesson focusing on the origin, structure and effects on the music throughout time. She brings her beacon of musical light to the world while embracing a positive future with her inspiring messages. Mimi's sound is an eclectic mix of genres based on a strong jazz foundation that leaves room for funky bass grooves, world beat rhythms, gentle textures and the soulful cries of the Wurlizter. "This music taps directly into the senses using elements of jazz, folk, rock, blues and different sounds from around the world which have all had such a profound effect on me." But, be advised, at the end of the afternoon, no one is going homes with the blues!
April 20, 12:30 pm – Lenny White Quartet: Jazz for Kids, Performed with Kids
Newark Museum, 49 Washington Street, Newark, NJ 07102
(973) 596-6550 /
www.newarkmuseum.org
One of the most versatile drummers on the music scene, Lenny White brings wunderkinds pianist Beka Gochiashvili and bassist Daryl Johns along with guitarist Tom Guarna to help him present his special program for young people. White is renowned for being part of Chick Corea's award-winning group, Return to Forever, in the 1970's. A self-taught drummer, he largely started his career on top, playing regularly with Jackie McLean (1968) and recording "Bitches Brew" with Miles Davis in 1969. In addition, White has played with Joe Henderson, Woody Shaw, Geri Allen, Gato Barbieri, Gil Evans, Jaco Pastorius, Miles Davis, and Stan Getz.
April 27, 12:30 pm – Lauren Hooker Quartet: Musical Legends Presents Jazz 4 Kids
Luna Stage, 555 Valley Road, West Orange, NJ 07052
(973) 395-5551 /
www.lunastage.org
Explore the jazz legends of the world through this interactive, educational program. Vocalist/educator Lauren Hooker leads the audience through the origins of jazz, beginning the journey with participatory African "Call and Response," "Field Holler" and "Slave Songs" and more. Children will be exposed to jazz legends including Duke Ellington, Ella Fitzgerald and Miles Davis while the audience becomes the instruments in a "Jazz Trio" and experiences the freedom of improvisational scat singing.
May 4, 12:30 pm – Michael Wolff: Blues Is Underneath Jazz
Victoria Theater/New Jersey Performing Arts Center, One Center Street, Newark, NJ 07102
(888) 466-5722 /
www.njpac.org
Pianist and composer Michael Wolff links blues and jazz in an exploration of different styles of blues including old standards, rock and roll, bebop and beyond. He made his recording debut with Cal Tjader in the mid 70's and went on to play and record with Airto and Flora Purim, Cannonball Adderley, Sonny Rollins, The Thad Jones/Mel Lewis Orchestra, and Nancy Wilson. He has performed with and conducted over 25 symphony orchestras worldwide. For five years in the 90's, Michael was band leader and musical director of the
Arsenio Hall
television show. He has released a dozen recordings to critical and popular acclaim. His album,
Jumpstart
, with Christian McBride and Tony Williams, won the Gold disk Award in Japan. He has recently formed a new band, Wolff & Clark Expedition, with drummer Mike Clark; their album,
Wolff & Clark
, was released in the Fall of 2012.
For more information on the 2013 WBGO Kids Jazz Concert Series, please visit
www.wbgo.org/kids
.
ABOUT WBGO
Founded in 1979, Newark Public Radio, Inc. is a publicly supported cultural institution that champions jazz at WBGO 88.3 FM in Newark, New Jersey and worldwide via wbgo.org. WBGO is the recognized world leader in jazz radio and one of the most respected jazz presenters in the country, and offers award-winning news and innovative children's programs. Beyond reaching 400,000 weekly listeners (including 17,000 contributing members) on air, online and via mobile devices, WBGO presents live broadcasts from prestigious jazz venues and produces acclaimed programs for NPR heard by millions. WBGO is Jazz Week magazine's 2010 Major Market Station of the Year.
# # #